Hickory Lumber at AFP Logs & Lumber, Inc. in Buckhannon, WV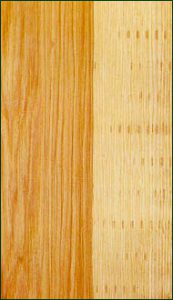 General Information:
The heaviest of American hardwoods, the hickories can be difficult to machine and glue, and are very hard to work with hand tools, so care is needed. They hold nails and screws well, but there is a tendency to split so pre-boring is advised. The wood can be sanded to a good finish. The grain pattern welcomes a full range of medium-to-dark finishes and bleaching treatments. It can be difficult to dry and has high shrinkage.
Harvested Areas:
The North-Eastern Appalachian region.
Typical Uses/Availability:
Tool handles, furniture, cabinetry, flooring, paneling, wooden ladders, dowels and sporting goods. Typically sawn in 4/4 thicknesses.
Relative Abundance:
2.2% of total U.S. hardwoods commercially available.
Working Properties:
Machining Quality:
Excellent
Resistance to Spliting in Nailing:
Fair
Resistance to Spliting in Screwing:
Good
Physical Properties:
Specific Gravity (12% M.C.):
0.72
Average Shipping Weight In Kg Per Cubic Meter (Air Dry):
716
Volumetric Shrinkage (oven dry % of green):
16.7
Rupture (Kilopascals):
139,000
Elasticity (Megapascals):
14,900
Hardness (Newtons):
7,000