Soft Maple Lumber at AFP Logs & Lumber, Inc. in Buckhannon, WV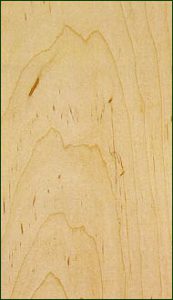 General Information:
Soft maple machines well and can be stained to an excellent finish. It glues, screws, and nails satisfactorily. Polishes well and is suitable for enamel finishes and brown tones. It dries slowly with minimal degrade and there is little movement in performance.
Harvested Areas:
The North-Eastern Appalachian region.
Typical Uses/Availability:
Furniture, paneling and millwork, kitchen cabinets, moldings, doors, musical instruments, and turnings. Soft maple is often used as a substitute for hard maple or stained to resemble other species such as cherry. Its physical and working properties also make it a possible substitute for beech. Readily available in thicknesses 4/4 through 8/4, moderate availability 10/4 and heavier.
Relative Abundance:
4% of total U.S. hardwoods commercially available.
Working Properties:
Resistance to Spliting in Nailing:
Fair
Resistance to Spliting in Screwing:
Good
Physical Properties:
Specific Gravity (12% M.C.):
0.47
Average Shipping Weight In Kg Per Cubic Meter (Air Dry):
564
Volumetric Shrinkage (oven dry % of green):
12.0
Rupture (Kilopascals):
61,000
Elasticity (Megapascals):
7,900
Hardness (Newtons):
3,100